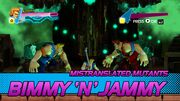 The "Mistranslated Mutants", Bimmy 'n' Jammy, are the bosses of Mission 7 in Double Dragon Neon. They are muscular mutant versions of Billy Lee and Jimmy Lee whose fighting style is similar to Abobo's. They also appear in Mission 8 as regular enemies.
Bimmy 'n' Jammy are similar to Jawbreaker, they both are mutants brutes who are quite strong and while not being very intelligent they are loyal minions to their masters.
Bim and 'n' Jammy are voiced by Nick Malouf (who also voices the Mecha Biker).
Bimmy's name comes from an infamous bug in Double Dragon III: The Sacred Stones in which Billy's name is misspelled as such during the opening story sequence when the game starts in 2-player mode.