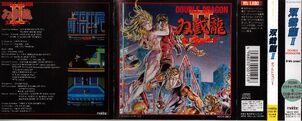 Double Dragon II: The Revenge is a video game soundtrack album published by Meldac Corporation. It was released on CD and cassette on March 10, 1990 and was the first album published by Meldac under their M's Labo imprint, a division of the company dedicated exclusively to producing high-quality arranged versions of video game soundtracks. This album in particular was based on the Famicom/NES version of Double Dragon II: The Revenge and features a vocal J-pop version of the title theme, as well as arranged renditions of the background music.
Track listing
Edit
"Dead or Alive"
"Awakening the Vengeful Oni" 動き出した復讐鬼
"Silent Pursuit" 静かなる追跡
"Night Sky of Tension" 緊迫の夜空
"A Steady Advance Towards the Morning Glow" 朝焼けの快進撃
"Escape to the Forest" 森を抜けて
"Grim Reaper" 邪神
"Breaking the Barrier" 難関突破
"Enter the Enemy's Base" 敵基地を行く
"Roar of the Twin Dragons" 双龍の雄叫び
"Miracle of the Twin Dragons" 双龍の奇跡
"Sweet Memories" 懐かしき思い出
"Dead or Alive (Edit Version)
External links
Edit
Ad blocker interference detected!
Wikia is a free-to-use site that makes money from advertising. We have a modified experience for viewers using ad blockers

Wikia is not accessible if you've made further modifications. Remove the custom ad blocker rule(s) and the page will load as expected.