Marian Kelly
Talk

0
125pages on
this wiki
Marian (マリアン) is a fictional character from the Double Dragon game series.
Biography
Edit
Billy Lee's girlfriend and an instructor at the Sou-Setsu-Ken Dojo. Kidnapped by the Black Warriors.
Billy's girlfriend and an instructor at the Sou-Setsu-Ken Dojo. In the original game she was held hostage by the Black Warriors but was rescued by Billy and Jimmy Lee at the end. This time around, she gets shot to death by the leader of the Black Warriors, Willy. On the NES version, completing the game on the hardest difficulty by beating the Shadow Boss will allow Marian to be resurrected.
Super/Return of Double Dragon
Edit
Marian, a beautiful young policewoman, is a student of Kung Fu and part-time assistant instructor at the martial arts training school run by Billy and Jimmy Lee. A narcotics investigator, she has disappeared while attempting to infiltrate the ruthless criminal mob known as the Black Shadow Warriors.
A cheerful, justice-loving, and very athletic young woman. She likes salad and cats. She seems like a typical girl, but she is actually the female leader of a street gang. Because of this, her strong personality and courageousness stand out, but she also has a kind and feminine side. While currently learning martial arts from the Lee brothers, she had also studied figure skating, so she fights with a tricky technique that utilizes those skills. She thinks of Billy and Jimmy as younger brothers who always need for help.
Rage of the Dragons (Neo-Geo)
Edit
Not much is said about Marian in this game, but the plot changes her involvement with Jimmy pronouncing how they were in a relationship instead of her being with Billy, she's also long dead in this version as shown in Jimmy's ending in which he visits her grave with his new female partner Sonia. (This game uses the characters and settings from Double Dragon but deemed non canon since they couldn't get the actual rights for the Double Dragon franchise)
Marian is kidnapped by Skullmageddon's henchmen. Later Skullmageddon turns her into "Skullmageddon's Girl!?", Evil Marian. Evil Marian is fought alongside Skullmageddon as the penultimate boss, flying around the room and attacking with projectiles. The Lee brothers manage to defeat Skullmageddon and free her from his control. She uses power of love to help the Lee brothers go after Skullmageddon to defeat him.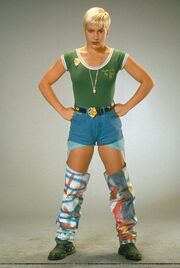 Marian Delario is the leader of a gang.  In the film, she's portrayed by Alyssa Milano. (In the film producers used the surname Delario instead of Kelly)