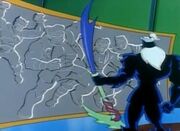 In the Double Dragon television series, the Shadow Mural is a wall in the Shadow Dojo where the Shadow Master magically absorbs those who have failed him, who remain as a gray immobile decoration of the mural. It first appears in the episode "The Legend Continues", when the Shadow Master adds Abobo and Wild Willy to the mural. The Shadow Mural keeps appearing throughout the series as part of the Shadow Dojo, but the Shadow Master rarely uses it to trap anyone until "The Abyss", when he catches the Dragon Warriors Blaster, Chop, Kona and Vortex and adds them to the Shadow Mural.
The Shadow Mural is also part of the background in the "Shadow Dojo Interior" stage of Double Dragon V: The Shadow Falls.
Ad blocker interference detected!
Wikia is a free-to-use site that makes money from advertising. We have a modified experience for viewers using ad blockers

Wikia is not accessible if you've made further modifications. Remove the custom ad blocker rule(s) and the page will load as expected.